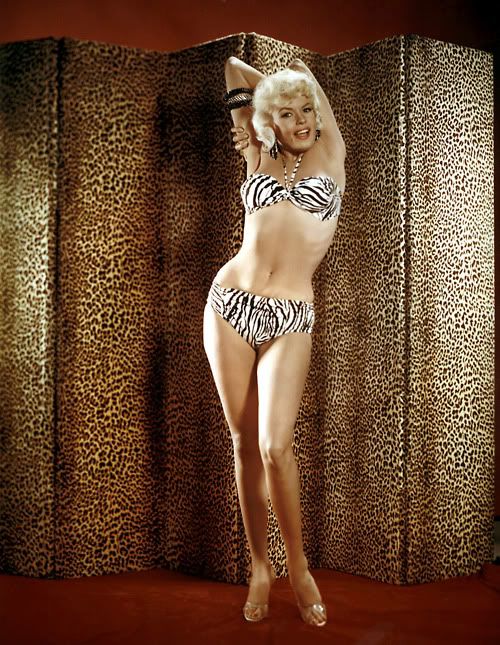 She wore a teeny weeny itsy bitsy zebra print bikini: Jayne Mansfield. Why don't people wear
zebra print
more often?
This was my first
Dr Sketchy
since getting back from two weeks in US (I got back on Saturday 14 April after going to the annual
Viva Las Vegas
rockabilly weekender, followed by a few days in San Francisco), and have to admit it felt like a bit tepid this time. Which was certainly not the fault of the stellar line-up of performers:
homme du monde
Dusty Limits
on emcee duties, platinum blonde Monroe-a-like showgirl
Slinky Sparkles
and kooky newcomer, Australian starlet Georgina Ruby. Lately we've been on fire, but this Dr Sketchy didn't sell out (although it didn't exactly look sparsely attended from the DJ booth and to their credit the crowd seemed open and enthusiastic).
I'd spent a bomb on CDs at Amobea Records in San Francisco (my favourite record store in the world. And when I say "spent a bomb", my credit card statement is giving me anxiety attacks), which I was keen to play. One of the CDs was a mondo exotica Tiki compilation (that's why you might see more Les Baxter and Martin Denny than usual, as well as Yma Sumac's sublime "Wimoweh"), but don't think I managed to integrate it very well into things. In fact musically I think I was incoherent as hell. It was one of those nights where musically it just didn't gel for me. Let's blame the murderous post-US jetlag I'm still suffering from (it takes me at least a week or two for my body clock to re-adjust to UK time! I was feeling zombified with exhaustion all week) and drinking pints of lager on an empty stomach (I went to the venue straight from work and The Royal Vauxhall Tavern's kitchen has temporarily stopped serving food. I was depending on a bowl of their chips to line my stomach with!).
One of the evening's most disconcerting touches was the sleeping guy. He looked like what we in the know would call a "bear." He came in alone, ordered a pint of beer, picked one of the best seats in the venue – and then snoozed through pretty much the entire show. At one point Clare Marie (Dr Sketchy's glamazon promoter) was standing next to me in the DJ booth and I pointed him out to her. Unruffled, she just shrugged and said he paid his entry fee so he could sleep if he wanted to. (Midway through, he woke up, looked confused by his surroundings and wandered out).
Strange!
For Georgina's poses I cranked up the kitsch factor and sleazy instrumentals. With Dr Sketchy veteran Slinky I always go heavy on cooing Hollywood sex kittens. Obviously playing a Marilyn Monroe track is obligatory, but I could skip one by Jayne Mansfield this time because Slinky already used a song by Jayne as part of her burlesque number ("Too Hot to Handle" in case you're interested). I also explored a sultry and melancholy blue mood with a trio of ballads by three quintessential
chanteuses
: Nina Simone, Eartha Kitt and Juliette Greco.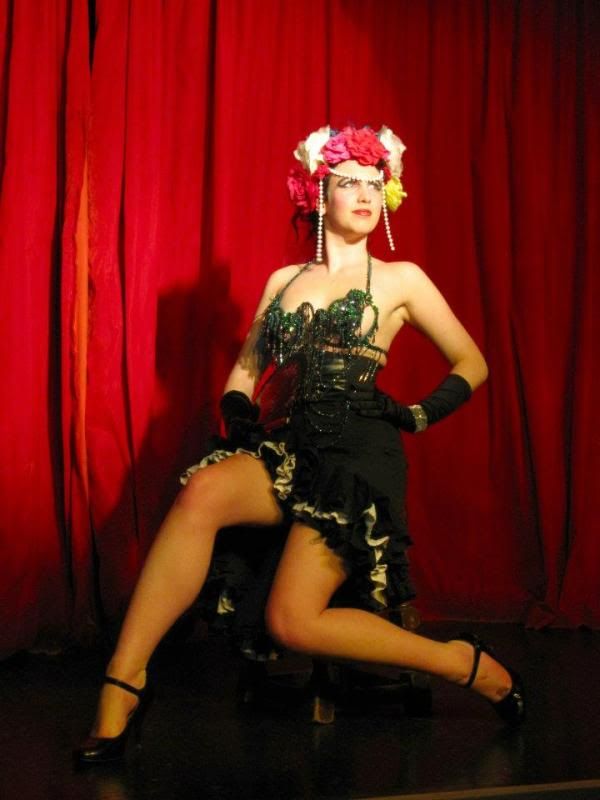 Georgina Ruby: Doesn't she look a bit like New Wave crackpot
Lene Lovich
here?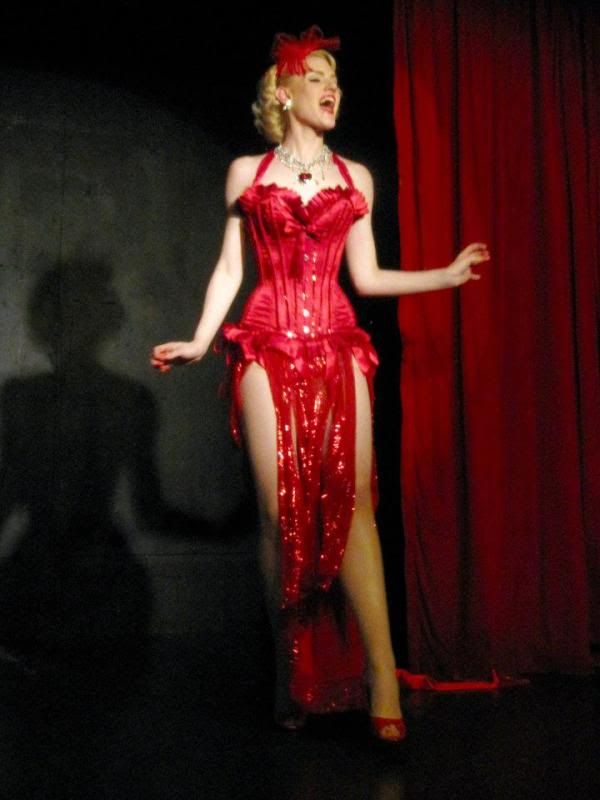 Slinky Sparkles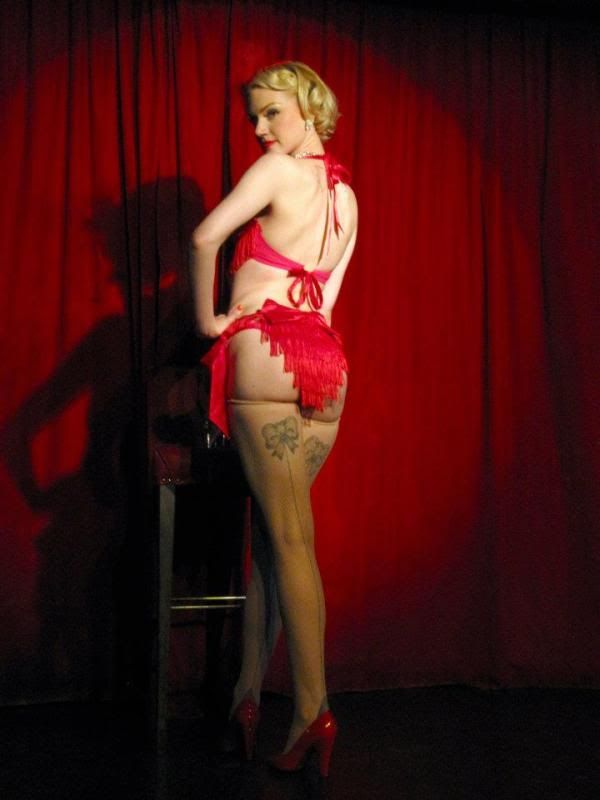 Pin-up come to life: Slinky Sparkles evoking Betty Grable
(All photos by the talented Andrew Hickinbottom)
Fragment of La Mansfield bumping, twitching and pouting her way through "Too Hot to Handle"
Glimpse of the breathtakingly beautiful young Juliette Greco (in trademark stark Morticia Addams black) singing "Bonjour Tristesse" in 1958. Trust me: the original French lyrics are much better than the trite English ones!
Misirlou - Martin Denny
Monkey Bird - The Revels
Champagne Taste - Eartha Kitt
Witchcraft - Joe Grave and The Diggers
Los Cigarillos - Serge Gainsbourg
Hot Toddy - Julie London
Fever - Richard Marino and His Orchestra
Mess of Blues - Elvis Presley
All You Had to Do Was Tell Me - Ann-Margret
Oui je veux - Johnny Hallyday
Sea of Love - The Earls of Suave
Night Scene - The Rumblers
Cheesecake - Nite Sounds
Town without Pity - James Chance
The Mexican - The Fentones
Tequila - Stan Kenton and His Orchestra
Wimoweh - Yma Sumac
Not Me - Robert Mitchum
Go Calypso - Mamie Van Doren
Don't Be Cruel - Bill Black Combo
Made You - Adam Faith (
Beat Girl
soundtrack)
Intoxica - The Centurions (
Pink Flamingos
soundtrack)
Sweetiepie - Eddie Cochran
The Swag - Link Wray (
Pink Flamingos
soundtrack)
Jim Dandy - Sara Lee and The Spades
Pass the Hatchet - Roger and The Gypsies
Baby Blues Rock - Carl Simpson
Tonight You Belong to Me - Patience and Prudence
Beaver Shot - The Periscopes
Bewildered - Shirley and Lee
Strolling After Dark - The Shades
Caterpillar Crawl - The Strangers
Boots - Nero and The Gladiators
It's Legal - Shirley Anne Field (
Beat Girl
soundtrack)
Cherry Pink - Bill Black Combo
Caravan - 80 Drums Around the World
Come By Sunday - Diana Dors
Tall Cool One - The Wailers
Drummin' Up a Storm - Sandy Nelson
Lookie There, Ain't She Pretty - Bill Haley and His Comets
Je Me Donne A Qui Me Plait - Brigitte Bardot
Scorpion - The Carnations
One Mint Julep - Sarah Vaughan
Begin the Beguine - Billy Fury
Jungle Drums - Earl Bostic
Mambo Baby - Ruth Brown
Boss - The Rumblers
Whiplash - The Shells
Anytime - Bill Black Combo
Willow Weep for Me - Nina Simone
Solitude - Eartha Kitt
Bonjour Tristesse - Juliette Greco
Petit Fleur - Chet Baker
Do It Again - Marilyn Monroe
Blues in My Heart - John Buzon Trio
Harlem Nocturne - Martin Denny
You're My Thrill - Dolores Gray
You Beautiful Doll - Nancy Sinatra
Drums A G-Go - The Hollywood Persuaders
Thirteen Men - Ann-Margret
The Beast - Milt Buckner
Deep Dark Secret - Lizabeth Scott
Hand Clapping Time - The Fabulous Raiders
Beat Party - Ritchie and The Squires
Uptown to Harlem - Johnny Thunders and Patti Paladin
Don't Blame it On Me - Ike and Tina Turner
I'm Not A Juvenile Delinquent - Frankie Lymon and The Teenagers
Next time: an update on Lobotomy Room, and a full scene report on Viva Las Vegas and San Francisco!