Gloria Graham's Pussy: Sullen Gloria Grahame, dubbed the "fallen-blonde, pouty lipped sinful-eyed angel" of film noir by John Kobal. She certainly enlivened every film she ever appeared in. One of the most popular
photos
I've ever posted on my blog is Grahame wearing an ultra pointy bullet bra under a tight sweater. Thanks for all the traffic, Gloria.
The blog has been a bit quieter than usual because I'm DJ'ing less these days.
Dr Sketchy
is winding down a bit: it will take a sabbatical and be (hopefully!) triumphantly re-launched around December 2012 or maybe the new year. Before that, though, we're taking our show on the road and will be doing our own Dr Sketchy tent at the music festival
Bestival
in the Isle of Wight on 6-9 September 2012. But Dr Sketchy's glamazon stage manager Clare Marie is
also
organising the burlesque club
Time for Tease
, and I'll be DJ'ing
there
as well – FOUR shows a day! So I'll be DJ'ing five shows a day for three days. I'll be the hardest-working man in show business! I'm drained already just thinking about it.
It's surprising how anxious I am about Bestival! I never go to either music festivals
or
go camping, so I will be totally out of my comfort zone. Clare is providing me with a tent, and a woman at work has loaned me a sleeping bag. I may originally hail from rural Quebec and I did used to frequently go camping when I was a kid, but I've been living in concrete jungle London for twenty years now and am a total hard-bitten urbanite. The good news is the Dr Sketchy crew will be situated in the relatively deluxe VIP performers' area, so will have decent shower and toilet facilities. As a self-confessed borderline OCD control freak, it's hard not to worry about the things I have zero control over – i.e. totally unfamiliar decks, the logistics of DJ'ing somewhere unfamiliar to a bigger than usual crowd, the security of my DJ bag (if it ever got stolen, I would be abruptly retired!), the fact I couldn't erect a tent if my life depended on it!
Anyway, am sure it will be a blast and it will be a fun challenge to keep things focused and fresh doing five shows a day. And it's a great opportunity to DJ outside of London to a whole new audience at a prestigious event. Needless to say I'll be posting my set lists and photos when I get back.
Some other updates:
A few months ago I blogged about the birth of my "nephew"
Dorival
. I saw Petra, Rob and baby Dorival last Sunday. I see them about once a month on average. At Dorival's age you can see him develop dramatically each time you see him. His demeanour is usually mellow and sweet; his hobbies these days are mainly looking around noticing things, cramming his fists into his mouth and drooling (boy, can he
drool
).
Mutter und Baby:
Beautiful recent shot of Petra and Dorival
Last Sunday I was sitting next to Petra on the couch, with Dorival on her lap, and he was staring at me wide-eyed and unblinking with real curiosity. At one point, Petra need to go to the bathroom and quickly handed Dorival to me and set him on my lap as she left the room. The previous time I visited he let me hold him and was totally calm about it. (When you hold Dorival, he snorts and wriggles the whole time. It's like holding an adorable baby piglet).
This
time, seeing me extremely up-close he stared at me, he either touched my face or I put his hand on my face (I can't remember), paused and thought about it for a moment -- and then started to
howl!
Rob quickly came over and picked him up and tried to soothe him, but Dorival continued to scream for about seven minutes! So it properly freaked him out. He's at the "making strange" stage. Obviously to see Petra and Rob's faces in close proximity is very soothing and reassuring for him – to see my unfamiliar face was alarming! So I have the kind of face that makes baby cry – it's official!
Dorival and I in happier days in July 2012, when he would still let me hold him. His tendril of hair curling under my nose makes me look like I have a moustache
Later, Petra's elderly female cat Mamba was sitting on the arm of the couch, and I was crouching down next to her and saying to Dorival, "Look! Mamba lets me kiss her and
she
likes it!" He watched us, paused to reflect (he does the classic baby slow reaction to things, which is so funny) and then his whole face crumpled and he started to cry
again!
He didn't like seeing me kiss
anything!
Petra is taking him with her to visit relatives in Germany for 18 days and said, "This doesn't bode well." They will all want to hold and kiss Dorival and she hopes he won't be screaming the whole time!
Dorival in August 2012, hoping I keep my distance. Monitor Dorival's progress on my
flickr page
In an ideal world,
this
would've been my Spring/Summer 2012 look – Continental Style for Men circa 1957. I love the Navy/White striped denim (or DENIM if you prefer) Capri shirt and the jeans rolled-up clam digger-length. His hair and sunglasses are
perfection.
He is the personification of
La Dolce Vita
(the photo is presumably taken in London's Soho; you'd think he was in Rome). Cold day in hell I would ever wear espadrilles, though. I love the emphasis that Vince Man's Shop is situated in
the corner of Soho
– whatever that means. Presumably his main clientele were gigolos?
My talented and glamorous friend Jirral Darmoise (I've known her on the rockabilly scene since the 1990s) makes exquisite handmade reproduction vintage chalkware that would look
great
on your wall! Check out her
website Beatnik Blonde
. These two pieces are my personal favourites: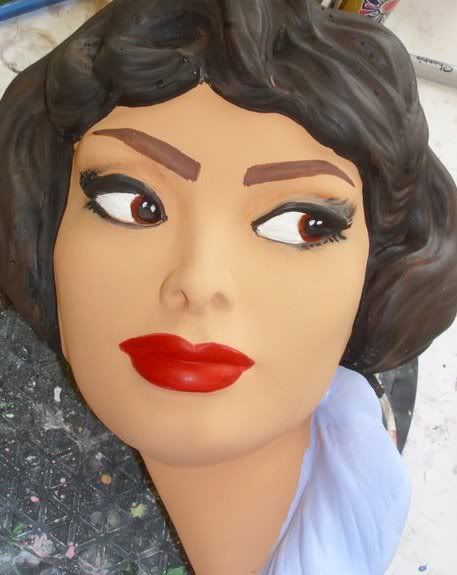 Sophia Loren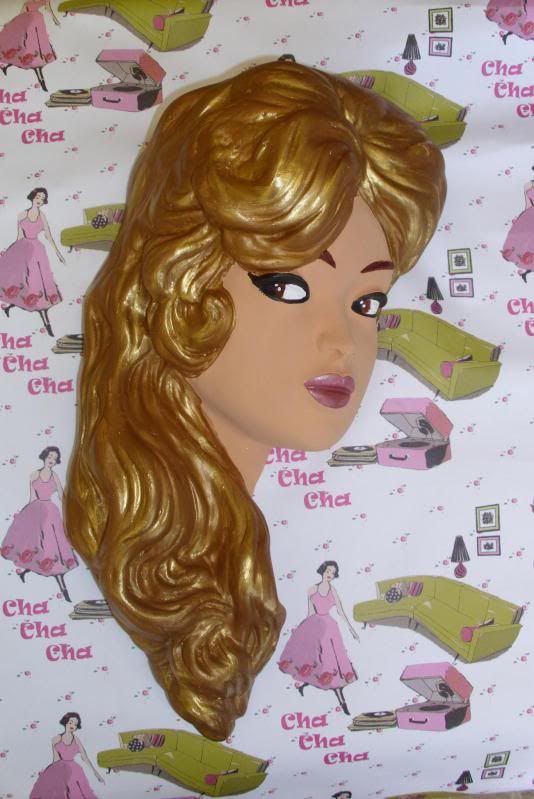 Brigitte Bardot
Jirral and I circa Spring 2003. Could there
be
more leopard skin in this photo?
Read about this in
The Guardian
recently: someone found a book of police mug shots of Newcastle criminals from the 1930s in a junk shop. The photos have been loaded as collection onto
flickr
and are now being published as a book, too. Wow: Depression-era criminals sure had
style!
(Great nicknames, too: Cocky, Doggy, the Sunderland Kid). ALL of these criminals have style and elan -- but check out the mugshot of a grinning Michael Lavery ("General thief and shopbreaker"). He's defiance personified. John Dodgson ("A general thief and bad character. Works alone", with "extensively tattooed forearms and hands") has a haunting quality. He looks like Rimbaud.
My favourite, though, is George Coulson (below). This smouldering thug could've leapt from the pages of a Jean Genet novel. (And he's only 5'3". At 5'6", I would've towered over him. It's true what they say: good things come in small packages. Check out his dreamy profile, and the elegant way he's tied the scarf around his neck. And has anyone
ever
looked better in a flat cap?).
Read more about these photos
here
Some Youtube finds:
My reverence for
Ann-Margret
is well-documented. Here is ultra-talented and chameleonic Kristen Wiig imitating sex kitten-gone-berserk Ann-Margret circa
Viva Las Vegas
/
Kitten with a Whip
on a recent episode of
Saturday Night Live
. Brilliant!
(If video won't play, watch it
here
)
How amazing is
this?
1956 TV footage of teenage kids dancing - with the original soundtrack (presumably of 1950s rock'n'roll) replaced by fierce, angry punk music! It's an interesting experiment: I know that when in clubs or parties someone projects old 1950s burlesque DVDs like
Teaserama
or
Varietease
against a wall, no matter what music the DJ is playing, the swaying hips of Bettie Page or Tempest Storm somehow magically manages to synch with the rhythm. I love how the punk songs contrast with the wholesome 1950s Iowa teens (girls in pencil skirts and cardigans, boys in horn-rimmed glasses and flat top crew cuts) – a good two decades before the birth of punk. (It's worth remembering that in those days, the term "punk" still meant someone who was raped in prison). The opening of the teens dancing to "Run Run Run" (one of my favourite non-Nico Velvet Underground songs) works perfectly. Later, when it's "Warm Leatherette" by The Normal, "Too Many Creeps" by Bush Tetras or "Why Can't I Touch It?" by The Buzzcocks playing on the soundtrack, their dancing suddenly looks more aggressive, twitchy, sex-wracked and alienated! The music implies that underneath they're all bristling, seething juvenile delinquents. Read more on the perennially excellent
Dangerous Minds blog
.
Finally,
Jackie Shane
will sing us out with "Walking the Dog", captured in grainy black and white in 1965 from the TV show
Night Train
. I'd never heard of this obscure rhythm and blues singer until this weekend, when
Joe Pop
(impresario of club night
Wild Thing
) posted this intriguing Youtube clip on Facebook. What. A.
DISCOVERY!
Originally from Nashville, Tennessee, Shane was an androgynous African-American (male) soul singer and drag queen who created a
risqué
sensation performing in the nightclubs and cocktail lounges of a more tolerant Toronto, Ontario in the 1960s. She even scored a minor pop radio hit with the bluesy and bittersweet
"Any Other Way"
in 1963. Amazing to think that such a transgressive outsider artist could find such widespread mainstream acceptance (it certainly makes me proud to be Canadian!).
Or perhaps
not
so amazing: judging by this clip (apparently the only surviving visual fragment of Shane performing), she was a genuinely great R&B
chanteuse
by any standard. (By the way: both vocally and visually, Shane "passes" as a woman, as far as I'm concerned. If I hadn't told you already, would you have "read" Shane as a drag queen?). Backed by the suave Johnny Jones & The King Casuals, Shane's languid delivery is at once tough and biting but restrained and coolly nonchalant. What style! What insouciance! And Shane looks great, too: chic in her sequined cocktail dress, cardigan and bouffant wig. Shane has been described as a hybrid of Eartha Kitt, Prince and Little Richard, which seems apt. She certainly shares Kitt's feline sultriness (and penchant for thick black eyeliner), and apparently in the 1950s and 60s Shane used to party with Etta James and Little Richard – so she certainly moved with a debauched and kinky rock'n'roll crowd.
By the end of the 1960s Shane left Canada and vanished into deep obscurity. There was an urban myth that she'd come to a violent end in Los Angeles. Happily, in recent years she has been rediscovered and it's come to light that Shane (now in her 70s)
is
still alive and residing back in Nashville. There are some fascinating accounts of Shane's life and what she's doing now online you can easily find in a cursory Google search.
This account
is particularly interesting: the author got to know Shane and her elderly aunt when he was based in Nashville in the 1990s and they needed help moving house. As far as he was concerned Shane was just a middle-aged local woman (so she obviously still "passes" well), but when he went to help them pack, he discovered this treasure trove of wigs, fur coats, gowns and old records that hinted at an interesting show business past.
Judging by online comments from people who know the present-day Shane, she emerges as a pretty fragile and reclusive figure with mental health issues (in particular agoraphobia), so any kind of return to performing is obviously out of the question. Still, let's hope someone corners her with a tape recorder and get her memoirs down before she dies, because Shane probably has some eye-popping stories to tell about her low life in high heels. In the past I've
blogged
about how the likes of Little Richard, Esquerita and Bobby Marchan represent the subterranean queer, black history of rhythm and blues and rock'n'roll. The enigmatic and regal Jackie Shane clearly belongs in this pantheon.