A strawberry blonde that's never existed in nature: Sex kitten extraordinaire Ann-Margret
This Saturday afternoon Dr Sketchy at The Old Queen's Head happened to coincide with my birthday. The reliably
louche
Dusty Limits
was on emcee duties. Our burlesque performer and female model was the diminutive
Amelie Soleil
, who I've never worked with before. She has a circus school background and is a contortionist: she can do the splits as casually as most of cross our legs, and was able to hold the pose for an eye-watering length of time! She also incorporated fire-eating into her burlesque act –
wow!
You can read about Amelie's pretty remarkable background in circus, cabaret and burlesque
here
. Our male model was the aptly-named Luscious Luke, who's recently been featured as a pin-up in
Meat
magazine (think of it as the UK equivalent of
Butt
).
Luke and Dusty topping up their fluid intake
The ultra-bendy Amelie Soleil
Amelie and Luke
ensemble
Because it was my birthday, I invited along some friends of mine: Angela (the sassy Scottish lassie who put the "ange" in "danger"), Paul (aka Johnny Cashpoint, formerly of art-punk band Matron – who should've made it big!), Derek and "Stuckist" artist and musician Ella Guru (formerly of the Voodoo Queens, currently in The Deptford Beach Babes). All of them were Dr Sketchy virgins, and really seemed to dig it.
My official birthday 2012 portrait: no photo of me is complete without my trademark sweat patch
I'm still working in new material from CDs I bought at Amoeba Records in San Francisco in April. From
Ain't Love Grand
, the much-maligned 1985 fifth album by the Los Angeles punk band X (a record that rocked my world as a teenager. It merits a whole blog to itself), I played the dramatic and bluesy torch song "My Goodness", which seemed to make an impression. The punk-y and strange last few songs were just me clowning around because I was drunk by then and it was my birthday.
I've also started introducing some tracks from a compilation CD entitled
Good Girls Gone Bad
I picked up at the wonderful
Rooky Ricardo's Records
in San Francisco. (God, how much do I love this store? I also bought some Ike and Tina Turner fridge magnets there.
Imagine!
Ike and Tina fridge magnets! I thought I'd died and gone to heaven). The compilation is a gem: I would call it an early 60s girl group anthology (it does feature some great obscure girl groups with names like The Tiaras, The Fortune Cookies and The Half-Sisters) but it mostly comprises tear-jerking laments by dimly-remembered wholesome white solo "girl singers" from that late 1950s-early 1960s post-army Elvis and pre-Beatles period that conventional baby boomer rock historians routinely condemn as some kind of cultural wasteland.
Rooky Ricardo's Records on Haight Street
Well, received wisdom sucks. Yes, the pop music of this era
is
often terminally un-hip, tame and neutered: think clean-cut teen idols like Tommy Sands, Connie Francis, Frankie Avalon and Annette Funicello, think
"Kookie, Kookie Lend Me Your Comb."
. Yet because the music is so white bread, wholesome and square, there's often an intriguing bat squeak of strangeness and kinkiness under its middle of the road veneer. Transgressive filmmakers like Kenneth Anger (think
Scorpio Rising
(1963); the Paris Sisters cooing "Dream Lover" in
Kustom Kar Kommandos
(1965) would comfortably fit on
Good Girls Gone Bad
) and David Lynch recognise this, returning again and again to the music of this period for their soundtracks. Lynch in particular: Bobby Vinton's "Blue Velvet", Connie Stevens's "16 Reasons" and Linda Scott's "I've Told Every Single Star" in
Mulholland Drive
(2001). The early 1960s is also the period John Waters came of age as a teen and which he lovingly evokes in
Hairspray
(1988).
"16 Reasons" in
Mulholland Drive
The Connie Stevens original
(Better known as an actress, platinum blonde starlet Connie Stevens cut a few records in the early 60s, singing in a breathless little girl voice. Her
"Little Miss Understood"
is one of my highlights on
Good Girls Gone Bad
).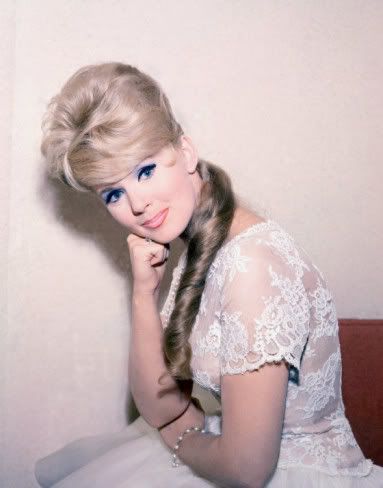 Connie Stevens in her beehived glory
When I bought the CD, the man who I assume to be Rooky Ricardo himself exclaimed, "Oh you'll like this – it's white girls with problems." Corny as hell, the songs pack a fluffy kitsch period charm, but also throb with innocence and urgent teen drama.
Good Girls Gone Girl Bad
sketches out a soap opera realm in which tearful, passive-aggressive and needy girls next door pine for their "good-bad but not evil" leader of the pack-bad boys in heartbreak ballads. "Twenty four hours of loneliness / Twenty four hours of heartbreak / Every minute has been like this / How much more can I take?" Bonnie Lou demands, audibly at the end of her rope, while Joni Lymon's "Happy Birthday Blue" is a variation on "It's My Party and I'll Cry if I Want To." On "Call Him Back", Donna Lewis argues with her boyfriend on the phone, hangs up on him and then goes batshit crazy regretting it. Things reach a fever pitch with "It Should Have Been Me", in which the lead singer of the aforementioned Fortune Cookies turns deranged stalker, watching her ex's wedding from a phone booth across the street. Her delivery makes you hope the newlyweds have taken out a restraining order. (It's worth remembering that it was around this time (1960) that Ike Turner first unleashed on the world his tigress of a wife, the volcanic Tina. Consider her frankly sex-wracked scream on "A Fool in Love" and then consider the disparity between black rhythm and blues and white pop records of the time).
The yearning lyrics and keening vocals on
Good Girls Gone Bad
bristle with the kind of dysfunctional "stand by your man" masochism whose DNA still pulses in the knowingly retro,
noir
-ish and David Lynch-ian music of ice princess Lana Del Rey today. "He can't be all bad / even though he's got an awful lot of rebel in him ..." long-forgotten
ingénue
Cobey Carson simpers. "It's no wonder he's in trouble every day / No kind word ever comes his way ...And I'm glad he's mine." That's precisely the kind of sentiment Del Rey (the only modern pop star who matters) explores in a more overtly troubled/troubling, potentially self-destructive way in songs like "Blue Jeans" and "Born to Die." Of course one of the (many) things Del Rey takes so much flack for is being a poor feminist role model for her "irresponsible" lyrics (her intriguing 1950s good girl/bad girl mixed messages are older than Ann-Margret and Nancy Sinatra).
Lana, oh, Lana:
I
understand you
But masochistic themes of romantic despair are present in
all
great love songs – they're the life force of pop itself. Think of the mid-century female masters of the art of heartbreak (Piaf longing for her legionnaire, the entire
oeuvre
of Billie Holiday, Dusty Springfield wailing "I Just Don't Know What to Do with Myself") and all the blues and Country & Western greats of both genders (an utterly defeated Hank Williams crying into his beer on "You Win Again").
Good Girls Gone Bad
taps into this, and makes me shudder in ecstasy.
Anyway, later that night I met up with Christopher and Lauren and went to The Hillbilly Hop (London's best monthly rockabilly club; kudos to its promoter, Greaser Leo). From there, things got messy, but it was fun and worth the next day's hangover.
I quickly snapped a few drunken (brutally close-up) photos at the Hillbilly Hop. Consider them Nan Goldin-style portraits of my friends
Lauren
Christopher
Danny
Danny again
Quiet Village - Martin Denny
Run - Jeri Southern
Laisse-moi tranquille - Serge Gainsbourg
Wimoweh - Yma Sumac
Mama Look A Boo Boo - Robert Mitchum
Go Calypso - Mamie Van Doren
De Castrow - Jaybee Wasden
La Bamba - Eartha Kitt
Vesuvius - The Revels
I Want Your Love - The Cruisers
Margaya - The Fender Four
Jim Dandy - Sara Lee and The Spades
You Can't Stop Her - Bobby Marchan
Screwdriver - Luchi
Chicken - The Spark Plugs
Kruschev Twist - Melvin Gayle
Chop Suey Rock - The Instrumentals
Love Potion # 9 - Nancy Sit
Fujiyama Mama - Annisteen Allen
The Bee - The Sentinels
Oo-Wee, Mr Jeff - Georgina Lane
Tall Cool One - The Wailers
Always True to You in My Fashion - Denise Darcel
8 Ball - The Hustlers
Fever - Ann-Margret
You're My Thrill - Chet Baker (instrumental)
Mon coeur n'était pas fait pour ça - Juliette Greco
Anasthasia - Bill Smith Combo
Strolling After Dark - The Shades
Womp Womp - Freddie and The Heartaches
Hard Workin' Man - Captain Beefheart
A Man What Takes His Time - Marlene Dietrich
I Want a Boy - Connie Russell
Handclapping Time - The Fabulous Raiders
One Mint Julep - Sarah Vaughan
Dragon Walk - The Noble Men
Hurt Is All You Gave Me - Ike and Tina Turner
This Thing Called Love - Esquerita
That Makes It - Jayne Mansfield
Beat Party - Ritchie and The Squires
Boss - The Rumblers
How Come You Do Me? Junior Thompson
The Beast - Milt Buckner
Do It Again - April Stevens
Kiss - Marilyn Monroe
My Goodness - X
Mondo Moodo - Earls of Suave
Lazy - The Nuns
Crazy Vibrations - The Bikinis
You're the Boss - Elvis Presley and Ann-Margret
Bonnie and Clyde - Serge Gainsbourg and Brigitte Bardot
Love is Strange - Johnny Thunders and Patti Paladin
Begin the Beguine - Billy Fury
Mack the Knife - Hildegard Knef
La Javanise - Juliette Greco
The Girl Can't Help It - Little Richard
Witchcraft - Elvis Presley
Viens danser le twist - Johnny Hallyday
Beat Girl - Adam Faith
Little Miss Understood - Connie Stevens
Big Girls Don't Cry - Edith Massey
What's Wrong with Me? X
What Do You Think I Am? Ike and Tina Turner