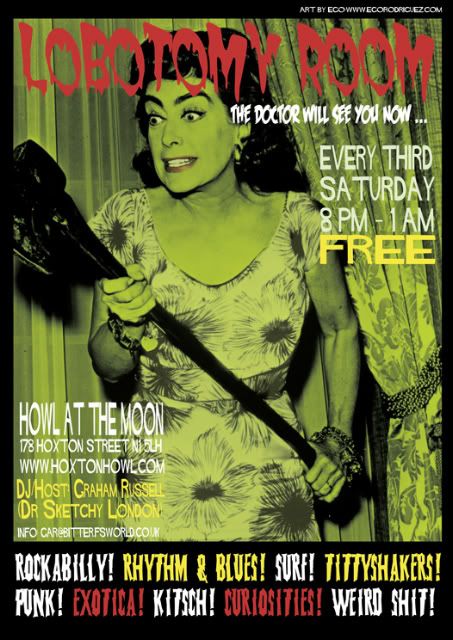 (The following is from an events page I created on Facebook):
Set your facial expressions to "stunned!" I've actually been entrusted with doing my own club night!
The pub Howl at The Moon on Hoxton Street (an old-school East End boozer) is under new management and its hip landlady Emma has given me every third Saturday night of the month to do my own night. It's called Lobotomy Room and it will be a sensual and depraved night of rockabilly, frantic Rhythm and Blues, tittyshakers, sleazy instrumentals, punk, kitsch and exotica – weird shit, basically! Think drunken hillbillies shouting at you while go-go dancers gyrate in a cage, and you're on the right track. (OK, there won't actually be any go-go dancers and the drunken hillbilly shouting at you will probably be me. Any of you who've seen me DJ'ing at Dr Sketchy or Cockabilly will know roughly what to expect).
Admission is FREE, the booze is cheap, and the venue is walking distance from Old Street tube.
Lobotomy Room debuts on Saturday 21 April 2012. The timing is tricky 'cause I split for Viva Las Vegas weekender (and then San Francisco) between 4 – 14 April. So it'll be the weekend after I get back.
Yikes!
Anyway, I need as many of you muthas as possible to turn up on the launch night and dance your asses off (and binge drink) to ensure my night is buzzing (and lucrative for the pub!). If you're working that night -- call in sick. If you're in jail --
BREAK OUT
. And then I expect you to turn up every subsequent month.
So ... won't you come and give me a warm hand on my big opening?

(Me again):
Sounds too good to be true, huh? Although in theory after all these years of DJ'ing, I guess it's a natural progression to finally be doing my own night. I'll just be eternally grateful to Emma (aka DJ Elma Wolf) for taking a chance on me. We first met when we both guest DJ'd at
Cockabilly
at The George & Dragon in November 2011. (Note: sadly, Cockabilly is currently on hiatus. The December 2011 one was the last Cockabilly to date. Fingers crossed this is just temporary). Emma organises regular nights at The Dalston Superstore and said she'd like me to do some guest DJ'ing there sometime. Then we bumped into each other at
John Waters's Christmas Show
at The Southbank in December.
In March I contacted Emma on Facebook to ask when her next Dalston Superstore night would be, as I'd try to come. Instead she told me she was now managing a pub in Hoxton – would I be interested in doing my
own
rockabilly night there? Needless to say I said, Hell yeah! We had a meeting at the pub to thrash out the details. The pub (on the gritty end of Hoxton Street as opposed to the art-y/bohemian hipster end) is called
Howl at The Moon
, which for an old beatnik like me brings positive associations with "Howl" by Allen Ginsberg. I always knew if I was to do my own night, it would have to be called Lobotomy Room, and that the flyer image would be a bug-eyed Joan Crawford wielding an axe from the 1964 William Castle-directed horror movie
Straitjacket
. (I bought a 8x10" print of this photo in San Francisco in 2007, knowing it would eventually come in handy!).
I just got back yesterday from American misadventures in Las Vegas (for the annual rockabilly weekender
Viva Las Vegas
) followed by a few days in San Francisco (the trip is a whole other blog!) and now am both jetlagged
and
vibrating with nerves about the debut of Lobotomy Room in less than a week! My stomach is full of vomiting butterflies, to quote the great Homer Simpson. If everything goes according to plan, one of my next blogs will be a Lobotomy Room set list and photos.
Wish me luck!