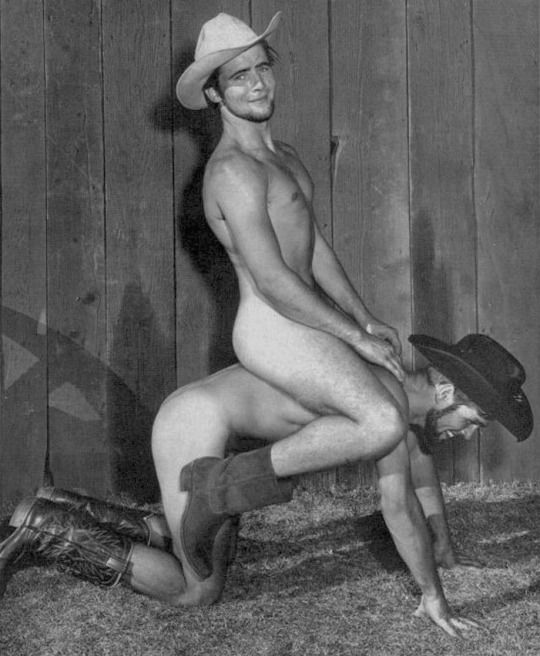 / Giddy-Up, Cowboy: the gorgeous Wilde brothers Rory (top) and Gunner (bottom - and what a bottom!) photographed by Bruce of Los Angeles in the sixties
/
I was a late addition to The Glory's annual Easter Sunday Barn Dance on 27 March. A day of beers, steers and queers – in gritty urban Haggerston! Think bales of hay on the floor, posters of mondo cleavaged patron saint Dolly Parton Blu-tacked everywhere and a crowd of yee-hawing gingham and denim-clad yokels (well, as interpreted by hip East London homosexualists).
/ I dug-out my old Hillbilly Hop t-shirt for the occasion. This t-shirt is so old at this point it must qualify as borderline vintage /
I've always wanted to play at one of these barn dances. After pleading, pouting, cajoling and stamping my foot, I finally managed to persuade John Sizzle that as someone who actually grew up on a pig farm in rural Quebec I'd be the closest thing to a hillbilly there - and won myself a sweet -DJ'ing guest spot from 7 pm. This night also represented my long-awaited Glory debut.
Anyway, at first I DJ'd between the cabaret acts. They included a drag queen (Miss Craig) lip-synching to a live recording of Cher singing "Walkin' in Memphis" and "Just Like Jessie James" followed by a drag king Jesus ("Shesus") complete with crown of thorns and luxuriant beard (who wailed Miley Cyrus' "Wrecking Ball") and finally Concertina Turner. The self-described "bearded hairy shit-kicker" in Tina Turner drag (with signature punk-bouffant wig and micro-mini skirt) accompanied himself on accordion while singing heartfelt versions of "Private Dancer", "What's Love Got to Do With It?" and "Simply the Best" – probably with more conviction than Turner herself has managed in decades. In other words – it felt like my spiritual home.
/ Below: All photos by Pal /
/ Shesus and Concertina Turner /
/ Shesus died for somebody's sins but not mine ... /
/ "She's got legs / She knows how to use them ..." Concertina Turner /
/ Pal and I /
Once the performers finished, I DJ'd straight through until the end. Musically I aimed to deliver a hayride to hell. As a rural Canadian child of the seventies, kitsch old-school honky tonk Country & Western is embedded in my DNA. Early on I focused on the pantheon of hair hoppin' divas of the genre: think Bobbie Gentry, Wanda Jackson, Tammy Wynette's "Your Good Girl's Gonna Go Bad", "Fist City" by Loretta Lynn. (I was kicking myself that I forgot to bring the CD with Loretta's "The Pill" – what an omission!). Obviously Nancy Sinatra is a goddess to me. From her 1967 album Country My Way – which I'd argue is her most consistent masterpiece - I played "Get While the Gettin' is Good" and "Jackson". (All due regards to Johnny Cash and June Carter's original, but the poppier, stomping Nancy and Lee Hazlewood country exotica version is definitive).
As the night progressed things got punkier, messier and more sordid (I'd been drinking all afternoon by this point) and I resorted to my more usual assortment of putrid vintage sleaze. To their eternal credit, the up-for-it and lively Glory crowd danced to whatever I flung at them. One young guy approached and asked if I could play Jessica Simpson's cover of "These Boots Are Made for Walkin'." Needless to say I didn't have it (I didn't even have Nancy Sinatra's on me) – so I played Mrs Mill's version. And people actually danced to it! It was especially gratifying to see a full dance floor thrashing and flailing to The Knitters (Los Angeles punk band X's occasional hillbilly side project), Ann-Margret, Nina Hagen and Divine. And once again, leather-clad, gap-toothed punk granny Edith Massey proved to be a surprising crowd-pleaser.
/ Your reward for reading this far: who doesn't love vintage homoerotic cowboy imagery? The delectable Rory Wilde photographed by Bruce of Los Angeles /
Gotta Lotta Rhythm in My Soul - Patsy Cline
Willie Joe - The Mystery Trio
Get While the Gettin's Good - Nancy Sinatra
Your Good Girl's Gonna Go Bad - Tammy Wynette
Oh Lonesome Me - Johnny Cash
Fist City - Loretta Lynn
Mississippi Delta - Bobbie Gentry
You Done Messed Around and Made a Mean Woman Mad - Julia Bates
Poor Little Critter on the Road - The Knitters
Seven Lonely Days - Bonnie Lou
Oh Lonesome Me - Ann-Margret
Jackson - Nancy Sinatra and Lee Hazlewood
Fools Rush In - Ricky Nelson
Ring of Fire - The Earls of Suave
Woodpecker Rock - Nat Couty and The Braves
Ballad of Thunder Road - Robert Mitchum
I Let the Stars Get in My Eyes - Goldie Hill
These Boots Are Made for Walkin' - Mrs Mills
Walk Like a Man - Divine
Big Girls Don't Cry - Edith Massey
Viva Las Vegas - Nina Hagen
Johnny Are You Queer? Josie Cotton
Funnel of Love - Wanda Jackson
Breathless - X
Rock Around the Clock - The Sex Pistols
Love Me - The Phantom
Sweetie Pie - Eddie Cochran
I Walk Like Jayne Mansfield - The 5,6,7,8s
That Makes It - Jayne Mansfield
Lucille - Masaaki Hirao
The Girl Can't Help It - Little Richard
Hanky Panky - Rita Chao and The Quests
Gostaria de Saber (River Deep, Mountain High) - Wanderlea
Under My Thumb - Tina Turner
Twistin' the Night Away - Divine
Viens danser le twist - Johnny Hallyday
Peter Gunn Twist - The Jesters
Peter Gunn Locomotion - The Delmonas
Ultra Twist - The Cramps
Bomb the Twist - The 5,6,7,8s
C'mon Everybody - Sid Vicious
My Way - Nina Hagen
Upcoming stuff to scrawl in your social calendar (ideally in blood). I'm the hardest-working woman in show biz in April!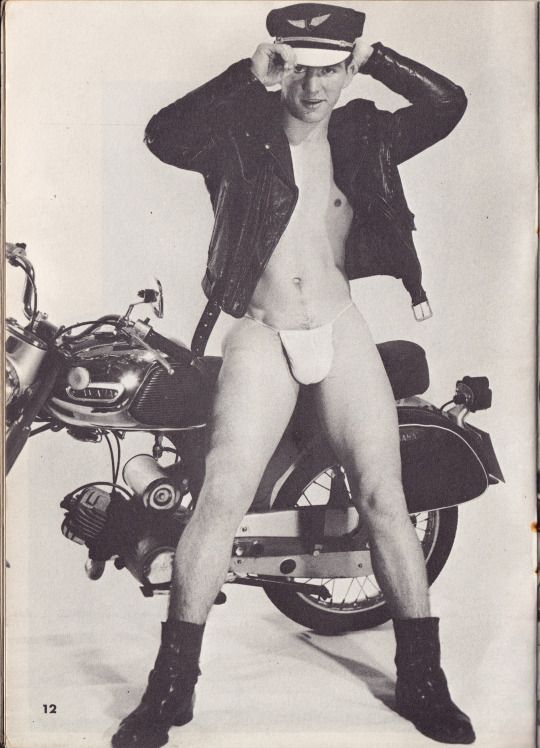 Wednesday 13 April 2016: Drag a comb through your quiff, swallow a fistful of bop pills and rock around the cock – when

COCKABILLY

returns to the

louche

surroundings of Bloc Bar in Camden! And every second Wednesday night of the month thereafter!
Leather boys, gay greasers, cry-babies, prison wives and juvenile delinquents of all ages are welcome at Cockabilly - London's only regular queer rockabilly night! With DJ Mal Nicholson and I (Graham Russell) spinning all your favourite rancid vintage sleaze classicks! Think rockabilly, rhythm and blues, surf, punk and tittyshakers! Daring and virile! Chains, whips, knives and leather belts all swished around together in bone-jarring rock and roll! Way-out sex and sin for those who like it that way!
The Bloc Bar: 18 Kentish Town Road London NW1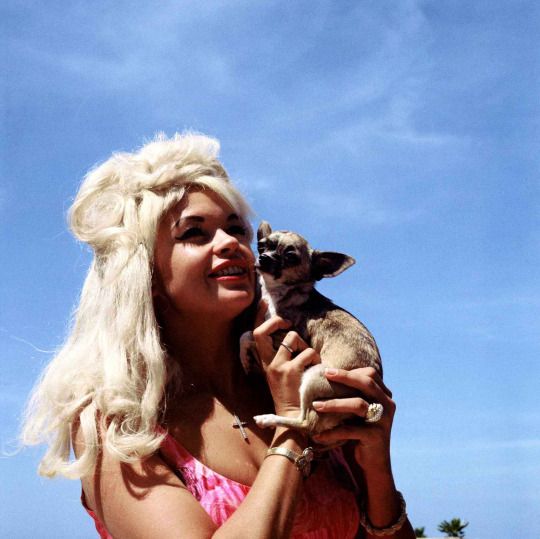 /
Throw on a blonde wig! Borrow a chihuahua! Put a wiggle in that walk! Coo and squeal like a sex kitten-gone-berserk! /
Wednesday 27 April 2016:
As host of the regular monthly Mondo Trasho punkabilly club night Lobotomy Room, I – Graham Russell - will occasionally crash
Fontaine's
free
weekly film night and screen a rancid title of my choice, with an emphasis on the cult, the queer and the camp! The Lobotomy Room Goes to the Movies selection this month is –
The Wild, Wild World of Jayne Mansfield!
Rated "X" upon its release in 1968, the ultra-trashy faux documentary chronicles the kinky globe-trotting misadventures of Hollywood sex kitten-gone-berserk Jayne Mansfield. Watch agog as kitsch icon Mansfield - the punk Marilyn Monroe, revered by John Waters and Divine (and "the face" of Lobotomy Room) - visits the hedonistic "sin spots" of the world, encompassing topless go-go clubs, gay bars, drag queen beauty contests and nudist colonies, usually accompanied by her pet Chihuahua!
The low-budget Wild, Wild World was in production 1964 - 1968. Bear in mind Mansfield died in 1967. Part of the fun is spotting how the producers cobbled things together after Mansfield's death in order to complete the film. Watch for the (many) shots of a body double filmed from behind wearing Mansfield's disheveled blonde wig. And the sound-alike who delivered the voice-over narration (nailing Jayne's breathless babydoll coo) deserved an Oscar!
In an eerie unplanned coincidence, April marks Mansfield's birthday (she was born 19 April 1933). Let's make the night a celebration of all things Jayne! Come dragged-up as Jayne Mansfield and / or accompanied by a Chihuahua – get a free cocktail.
As usual: arrive circa 8 pm to order your drinks and grab the best seats. The film starts at 8:30 pm prompt
!
Events page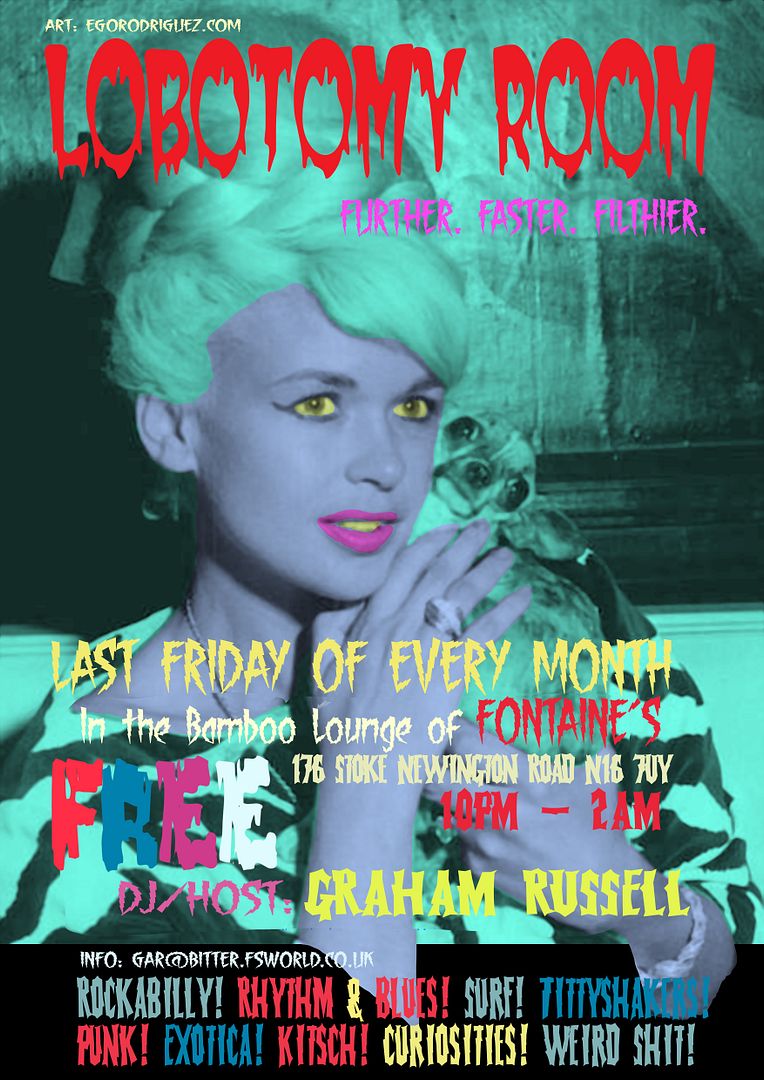 Friday 29 April 2016:
Revel in sleaze, voodoo and rock'n'roll - when incredibly strange dance party Lobotomy Room returns to the Polynesian-style basement Bamboo Lounge of Dalston's premiere Art Deco vice den Fontaine's! Friday 29 April! With sensational special offer cocktails on the night!
Lobotomy Room! Where sin lives! A punkabilly booze party! A spectacle of decadence! Bad Music for Bad People! A Mondo Trasho evening of Beat, Beat Beatsville Beatnik Rock'n'Roll! Rockabilly Psychosis! Wailing Rhythm and Blues! Twisted Tittyshakers! Punk! White Trash Rockers! Kitsch! Exotica! Curiosities and other Weird Shit! Think John Waters soundtracks, or Songs the Cramps Taught Us, hosted by Graham Russell (of Dr Sketchy and Cockabilly notoriety). Expect desperate stabs from the jukebox jungle! Savage rhythms to make you writhe and rock! Now with vintage erotica projected on the wall for your adult viewing pleasure! Come for the cocktails - stay for the putrid music and dirty movies!
Admission: gratuit - that's French for FREE!
Lobotomy Room: Faster. Further. Filthier.
It's sleazy. It's grubby. It's trashy - you'll love it!
A tawdry good time guaranteed!
Events page