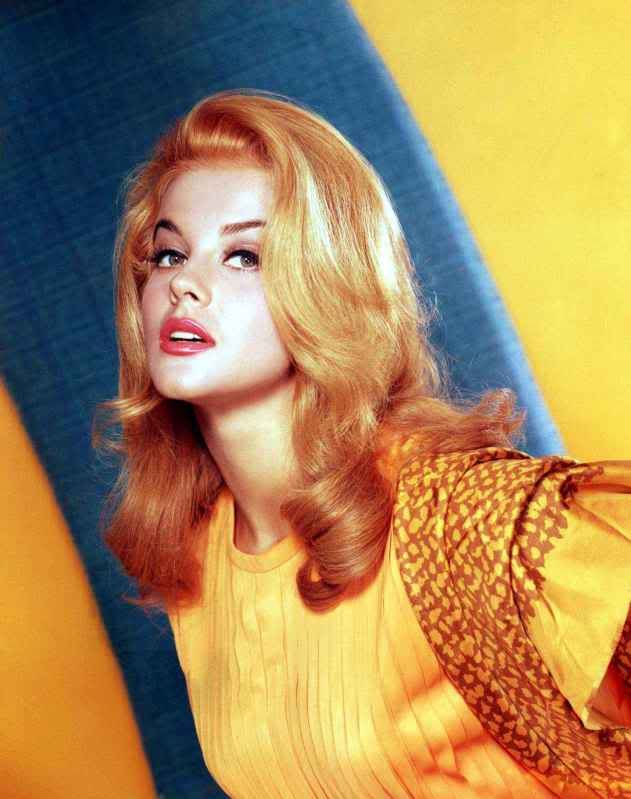 Early 1960s
Ann-Margret
: distilled essence of sex kitten
For once I have some photos from the day to post: my old pal Melissa Houston was in attendance armed with a seriously impressive big-ass photojournalist camera, and it turns out she's a pretty damn good photographer . Seriously – who knew Melissa had any talent? She also had a good (crotch-level) seat right by the front of the stage – oh, the sights she must have seen that afternoon!
Las Vagueness: Me behind the DJ booth, lost in thought -- or just blank?
This nicely laidback and boozy Saturday afternoon Dr Sketchy at The Old Queen's Head in Angel featured the ever-
soigné
Dusty Limits as emcee, Bomb Voyage modelling and
Bettsie Bon Bon
performing a bump-and-grind striptease routine and modelling.
Dusty Limits
The dazzling Bettsie Bon Bon knows how to make a real impression: rather than stripping down to her pasties and g-string and stopping, she kept going ... disrobing until just a tiny glittery silver heart-shaped
merkin
was left to preserve her modesty!
Bettsie Bon Bon
The ornately-tattooed Bomb Voyage is definitely one of our punkier and edgier models. On this occasion she posed while wielding a baseball bat, so I cranked-up the aggression and confrontation musically. "She is My Witch" is pretty much Bomb's theme tune; the knuckle-dragging piano and unearthly screams of Esquerita's blood-curdling "Esquerita and the Voola" suggests the soundtrack to a Santería voodoo ritual -- or human sacrifice.
Bomb Voyage
Later, Dusty asked for a Beatnik-style art-y jazz instrumental. Needless to say I dusted-off
"A Cruise to the Moon"
from Lydia Lunch's 1979 death-jazz
Queen of Siam
album, over which Dusty improvised some finger-snapping Beat poetry. It worked dreamily, daddio.
Beatnik Poetry, Part 1 (Note: that's Uncle Fester from
The Addams Family
on piano -- I shit you not).
Beatnik Poetry, Part 2
Towards the end of the day, I improvised a little mini-tribute to
Sylvia Robinson
of 1960s rhythm and blues duo Mickey and Sylvia, who died on 29 September 2011, aged 75. Robinson had a fascinating and long career on pop's fringes as a singer, songwriter and producer: after her musical partnership with Mickey Baker ended, the durable Robinson went on to have disco hits in the 1970s (like "Pillow Talk") and was a key figure in the emergence of hip hop in the early 1980s. Obviously it's her early R&B I prefer. I played the snarling "No Good Lover" by Mickey and Sylvia, Johnny Thunders and Patti Paladin's cover version of "Love is Strange" and her sassy early solo song (when she was billed as "Little Sylvia")"Drive, Daddy, Drive."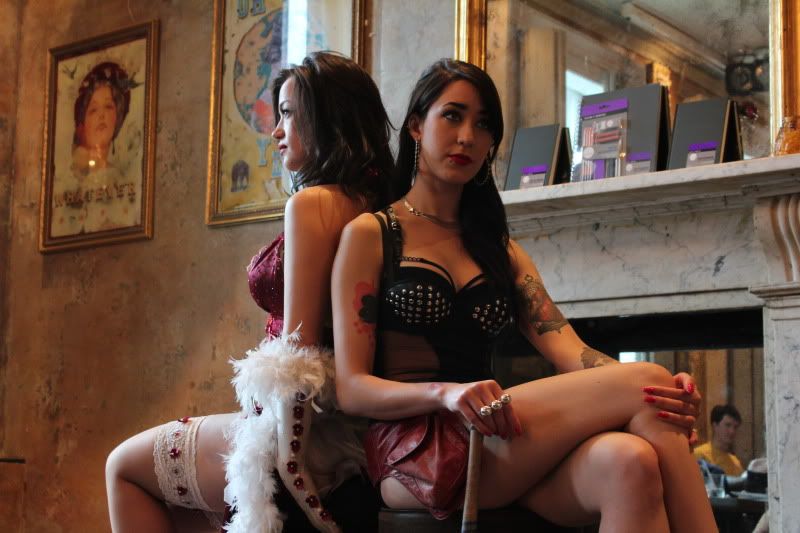 A pretty girl is like a melody: Bettsie Bon Bon and Bomb Voyage pose together
Afterwards, Mel and I went on a bar crawl, from The Old Queen's Head to The Joiners Arms to The George and Dragon. It got messy. Let's stop here ...
Watermelon Gin - Florence Joelle's Kiss of Fire
Little Ole Wine Drinker Me - Robert Mitchum
Souvenir, Souvenir - Johnny Hallyday
Friction Heat - Bonnie Lou
Leave Married Women Alone - Jimmy Cavallo
The Flirt - Shirley and Lee
Get Back, Baby - Esquerita
I Ain't in the Mood - Helen Humes
Greasy Chicken - Andre Williams
Fever - Nancy Sit
Baby Let Me Bang Your Box - The Bangers
Beaver Shot - The Periscopes
Poon Tang - The Treniers
Nosey Joe - Bull Moose Jackson
Eager Beaver Baby - Johnny Burnette
Cafe Bohemian - The Enchanters
I Gotta Right to Sing the Blues - Billie Holiday
You're Driving Me Crazy - Chet Baker
Angel Face - Billy Fury
Shangri-La - Spike Jones New Band
Go Slow - Julie London
Traume - Francoise Hardy
Ford Mustang - Serge Gainsbourg
Night Walk - The Swingers
She's My Witch - The Earls of Suave
The Rat - The Ventures
Rigor Mortis - The Gravestone Four
Esquerita and The Voola - Esquerita
A Cruise to the Moon - Lydia Lunch
Beat Generation - Mamie van Doren
Beat Party - Ritchie & The Squires
Elle est Terrible - Johnny Hallyday
Drums A Go-Go - The Hollywood Persuaders
My Daddy Rocks Me - Mae West
8 Ball - The Hustlers
Blues in My Heart - The John Buzon Trio
C'est Si Bon - April Stevens
Teach Me Tonight - Dinah Washington
Mack the Knife - Eartha Kitt
Chattanooga Choo Choo - Denise Darcel
Drive-In - The Jaguars
Beat Girl - Adam Faith
The Coo - Wayne Cochran
I Learn a Merengue, Mama - Robert Mitchum
Go, Calypso! - Mamie van Doren
Rum and Coca-Cola - Wanda Jackson
Groovy - The Groovers
Frenzy - The Hindus
Rockin' Bongos - Chaino
Train to Nowhere - The Champs
You Don't Know Baby - Wanda Jackson
Boss - The Rumblers
Rip it Up - Little Richard
No Good Lover - Mickey and Sylvia
Love is Strange - Johnny Thunders and Patti Paladin
Drive, Daddy, Drive - Little Sylvia
Happy, Happy Birthday Baby - The Tune Weavers
Stop and Listen - Mickey and Ludella
Chicken Grabber - The Nite Hawks
Devil in Disguise - Elvis Presley
Begin the Beguine - Billy Fury
Love for Sale - Hildegard Knef